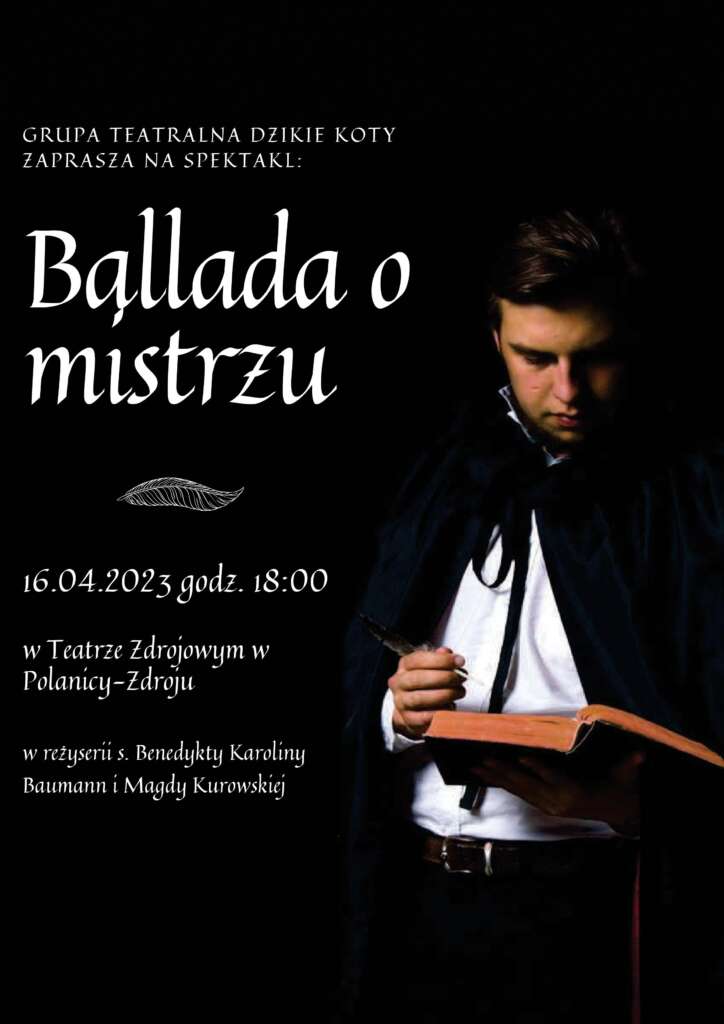 Tytułowy Mistrz to Adam Mickiewicz. Samotny, niezrozumiany, w obcym świecie: obcym nie tylko dlatego, że na emigracji w Paryżu otaczają go ludzie mówiący innym językiem, nie rozumiejący polskości, lecz OBCYM przede wszystkim mentalnie… I nagle przychodzi do niego Poezja – jego miłość życia i zarazem utrapienie. Błogosławieństwo i przekleństwo. Ta, która naznaczyła Mistrza geniuszem i… piętnem dziwaka. Wraz z Poezją pojawiają się postacie i słowa z utworów Wieszcza: Dziadów, Ballad i romansów, Pana Tadeusza… I jeszcze jego ukochana Maryla, która go zostawiła i wybrała (jakże to banalne!) bogatego hrabiego.
Zaczyna się swoisty obrzęd "dziadów" – wywoływanie duchów przeszłości. Podróż w głąb własnych tęsknot i wspomnień, "kraju lat dziecinnych". A wszystko to opowiedziane w lekkiej, barwnej formie musicalu z porywającą muzyką Przemysława Piechockiego.
Dlaczego "ballada"? Tytuł oczywiście nawiązuje do "Ballad i romansów", ale kojarzy się także z opowieścią śpiewaną przy kominku, u progu nocy, w której – jeśli będziemy cicho – być może usłyszymy szepty Młodzieńca, Świtezianki, Guślarza, zjaw i rusałek… Opowieścią pełną nostalgii, a jednak nie pozbawioną ironii, kryjącą w sobie tajemnicę, a jednak trochę zabawną.
Spektakl wyreżyserowała s. Benedykta Karolina Baumann (jest również autorką scenariusza) oraz Magdalena Kurowska, uczennica kłodzkiego LO im. B. Chrobrego. Autorem muzyki jest Przemysław Piechocki. Aktorami i muzykami są artyści ze szkolnej grupy teatralnej Dzikie Koty. "Ballada o Mistrzu" miała swoją premierę 15 czerwca 2018 w Centrum Kultury Chrześcijańskiej przy Parafii Podwyższenia Krzyża Świętego w Kłodzku.
Na spektakl zapraszamy 16 kwietnia 2024, o godz. 18.00.
Udział w wydarzeniu jest bezpłatny.