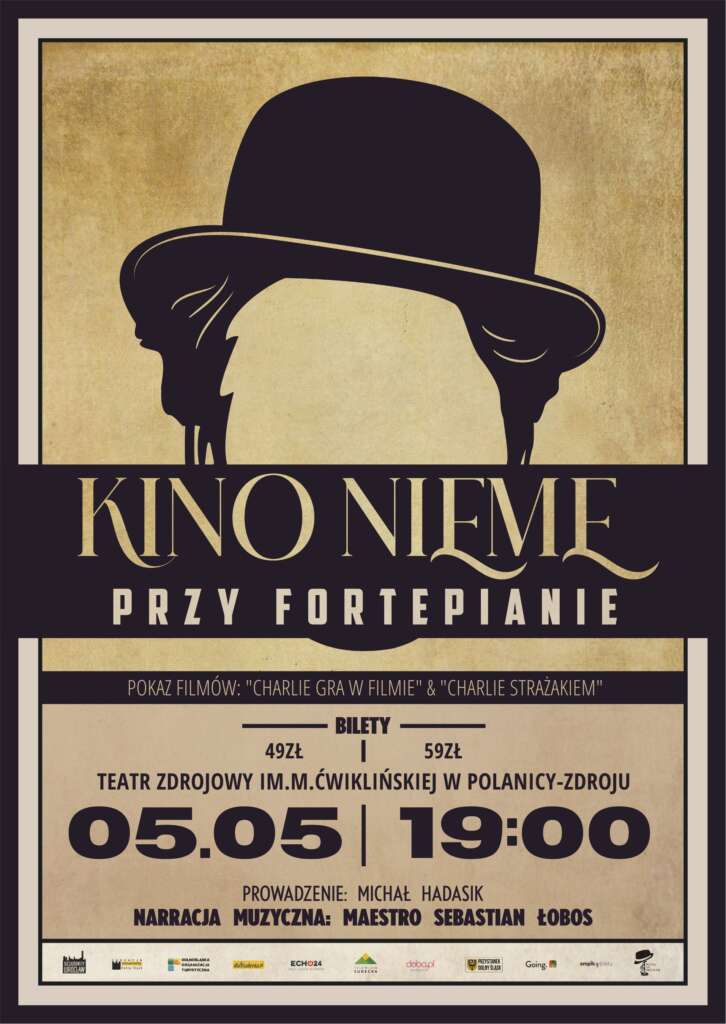 Byliście kiedyś na pokazie kina niemego?? NIE??? To czytajcie uważnie, to wydarzenie jest idealną propozycją dla Was! Pierwszy raz w historii zdarza się, że w murach Teatru Zdrojowego im. M. Ćwiklińskiej w Polanicy-Zdroju zostaną wyświetlone dwa, genialne filmy z legendarnym CHARLIE CHAPLINEM w roli głównej!
Co więcej… oprócz samego filmu będą mogli Państwo podziwiać i wysłuchać wirtuozerskich kompozycji SEBASTIANA ŁOBOSA, jednego z najwybitniejszych pianistów młodego pokolenia. Całe wydarzenie poprowadzi dyrektor artystyczny Sceny pod Regałem & Festiwalu Kultury Europejskiej – Michał Hadasik
Jak to w sanatoryjnym mieście, zadbamy przede wszystkim o najlepszą KURACJĘ złożoną TYLKO Z POZYTYWNYCH WIBRACJI! To wszystko za pomocą prześmiewczych kadrów, gagów sytuacyjnych, zabawnych anegdot i kojących dźwięków fortepianu!
Zobaczą Państwo 2 produkcje z dawnych lat: "Charlie gra w filmie" oraz "Charlie strażakiem".
Sebastian Łobos: to wybitny pianista młodego pokolenia, aranżer. Doskonale odnajduje się w każdym gatunku muzycznym od muzyki klasycznej aż muzykę współczesną, choć podobno w jego żyłach płynie Ragtime! Potrafi zwinnie wpleść w swoją grę cytaty z mistrzów takich jak Chopin czy Debussy, co czyni go wyjątkowym wśród pianistów. Rola klezmera (tapera) to dla niego najlepsza okazja do wykazania swoich umiejętności pianistycznych.
5 maja 2023
Teatr Zdrojowy im. M. Ćwiklińskiej
godz. 19.00
Bilety VIP: miejsca w pierwszych, trzech rzędach, mały upominek związany z kinem niemym i Charlie Chaplinem – cena: 59 zł
Bilet normalny: Miejsca od czwartego rzędu – cena: 49 zł
Bilety można nabyć w następujących punktach sprzedaży: BIURO TEATRU ZDROJOWEGO; SKLEPY EMPIK w całej Polsce; APLIKACJA GOING