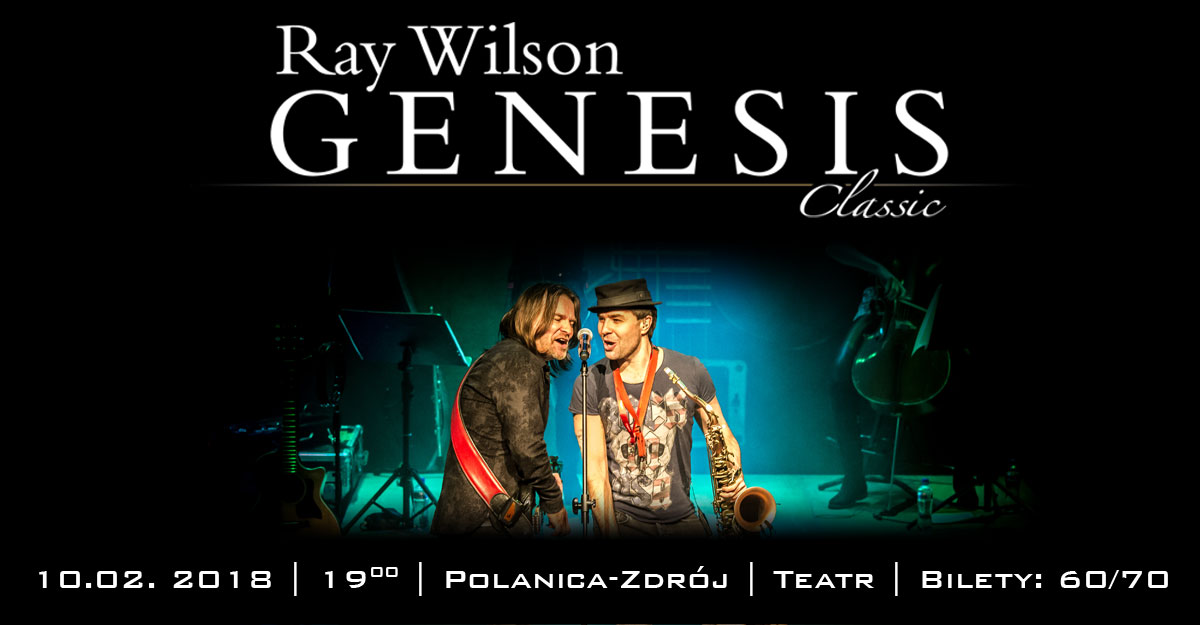 Ray Wilson – były wokalista GENESIS zaprezentuje podczas koncertu zarówno największe przeboje tej legendarnej grupy jak i autorski materiał, w tym kompozycje ze swoich najnowszych albumów.
Ostatnie 2 lata były dla Raya Wilsona bardzo owocne, w 2016 r. na rynku pojawiły się aż dwa nowe studyjne albumy artysty-  akustyczny "Song for a friend" oraz "Makes me think of home" o brzmieniu bardziej elektrycznym. W 2017 roku ukazał się natomiast album Live pt. "Time and Distance". Wydawnictwa spotkały się z bardzo dobrym przyjęciem na świecie ale także na rynku polskim. Podczas koncertu nie zabraknie solowej twórczości szkota ale przede wszystkim wielkich przebojów jak  np. "Another day in paradise", "Mama", "Land of confusion", "Follow you follow me" czy "Congo" . W styczniu 2018r. mija 20 lat od pamiętnego, pierwszego koncertu GENESIS w Polsce (1998r.), z tej okazji Ray Wilson zapowiedział pojawienie się paru niespodzianek podczas koncertu w postaci utworów z tamtej trasy i albumu "Calling All Stations".

Ray Wilson został wyróżniony przez "Classic Rock Magazin" jako jeden z najwybitniejszych wokalistów z Wielkiej Brytanii, kompozytor, autor tekstów, ceniony zwłaszcza za sceniczną charyzmę i zawsze wysoką formę koncertową. swoją klasę potwierdził współpracą z zespołem Genesis, kiedy to w 1996 roku zastąpił w roli wokalisty Phila Collinsa. Wcześniej, w 1994 roku, debiutujący zespół Stiltskin z Rayem w składzie stworzył niezapomniany utwór Inside, który podbił listy przebojów, w tym był numerem 1 w UK. Szkocki wokalista współpracował także z takimi artystami jak Armin Van Buuren, RPWL czy Scorpions.
Bilety: 60 zł (do 31.01), 70 zł (od 01.02)
do nabycia w sekretariacie Teatru Zdrojowego
Informacje/rezerwacje: 74 869 06 43, rezerwacje@teatr.polanica.pl