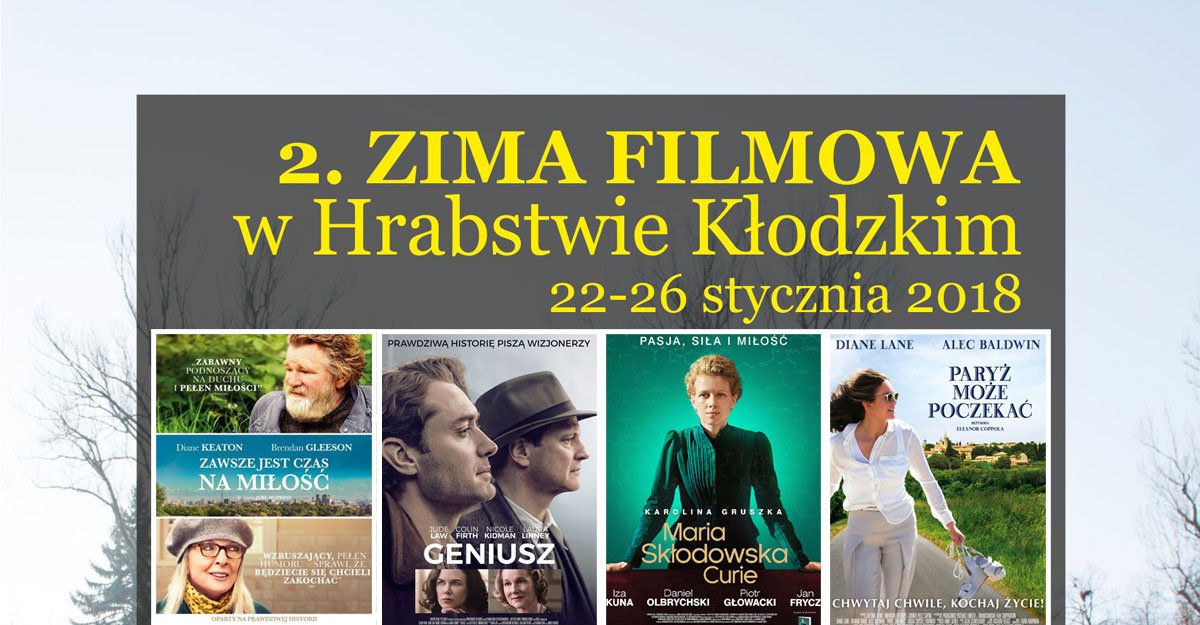 2. Zima Filmowa w Hrabstwie Kłodzkim
Polanica-Zdrój, 22-26 stycznia 2018
Nasze dotychczasowe filmowe spotkania odbywały się zwykle w letniej porze. W ubiegłym roku postanowiliśmy po raz pierwszy zaproponować Państwu filmowy program w czasie ferii zimowych. Pomysł naszym widzom spodobał się, impreza się świetnie udała. Pora więc ją kontynuować.
Zapraszamy zatem na przegląd najciekawszych utworów filmowych z ostatniego sezonu. ­­
PROGRAM:
22.01.
11.00 – Filmowy poranek dla dzieci i młodzieży
23.01
11.00 – Filmowy poranek dla dzieci i młodzieży
19.30 – ZAWSZE JEST CZAS NA MIŁOŚĆ
reż. JOEL HOPKINS – Anglia -2016 -100 min.
24.01.
11.00 – Filmowy poranek dla dzieci i młodzieży
19.30 – PARYŻ MOŻE POCZEKAĆ
reż. ELEANOR COPPOLA – USA – 2016 – 90 min.
25.01.
11.00 – Filmowy poranek dla dzieci i młodzieży
19.30 – MARIA SKŁODOWSKA-CURIE
reż. MARIE NOELLE – Francja, Polska, Belgia, Niemcy – 2016 – 100 min.
26.01.
11.00 – Filmowy poranek dla dzieci i młodzieży
19.30 – GENIUSZ
reż. MICHAEL GRANDAGE – USA, Anglia–2016–105 min.
Seanse w Teatrze Zdrojowym im. M. Ćwiklińskiej
Poranki filmowe – wstęp wolny
Projekcje wieczorne – 10 zł
Bilety do kupienia od godz. 18.00 w dniu seansu w kasie teatru

ZAWSZE JEST CZAS NA MIŁOŚĆ
Nasz przegląd zaczynamy od pogodnej baśni filmowej. Wśród pięknych plenerów, spokojnych uliczek i bogatych rezydencji toczy się niezwykły romans. Ona – wdowa po milionerze, która "uczy się życia w zwyczajnym świecie". On – mężczyzna po przejściach chcący odseparować się od rzeczywistości. Czy potrafią się porozumieć i pokochać? Czy może się to zdarzyć naprawdę czy tylko w baśni? W jednej z recenzji tego filmu napisano, że ten film po prostu ma ukoić nerwy i otulić widzów puchową kołderką pozytywnych emocji.

PARYŻ MOŻE POCZEKAĆ
Film został zainspirowany przeżyciami samej reżyserki – żony wybitnego reżysera Francisa Forda Coppoli. W 2009 roku Eleanor towarzyszyła mężowi na festiwalu filmowym w Cannes. Po jego zakończeniu Coppola został w Cannes, a Eleonora wyruszyła do Paryża z jego przyjacielem. I tak właśnie narodził się scenariusz do filmu "Paryż może poczekać". A zaplanowana na siedem godzin podróż, zamieniła się w dwudniową przygodę pełną najlepszego jedzenia, doskonałego wina, zapierających dech widoków, nieoczekiwanego humoru oraz… szczypty romansu.

MARIA SKŁODOWSKA-CURIE
Fragment biografii naszej dwukrotnej noblistki został potraktowany przez twórców filmu jako intymny portret kobiety próbującej odnaleźć się w świecie, który nie zawsze był jej przyjazny. Autorka filmu skupia się na bohaterce jako uczonej, ale też jako matce, żonie i kochance. W ukazaniu tej postaci świetnie odnalazła się grająca główną rolę Karolina Gruszka. Jej kreacja pozwala widzom uwierzyć, że mamy do czynienia z kobietą ze stali, kiedy chodzi o obronę swoich przekonań, i kruchą istotę, gdy górę biorą uczucia. Warto też zauważyć, jak niezwykłą rolę odgrywają przepiękne zdjęcia Michała Englerta, które skutecznie wpisują się w tą formułę kostiumowej biografii.

GENIUSZ
Tytułowym geniuszem jest dziś już nieco zapomniany, a w swoim czasie niezwykle popularny pisarz Thomas Wolfe. Po licznych porażkach związanych z wydaniem swej debiutanckiej powieści trafia on na sławnego i cenionego redaktora Maxwella Perkinsa, który postanowił pod pewnymi warunkami umożliwić mu ten debiut. A te warunki tworzą między nimi fascynującą walkę o niezależność twórcy. Ten niezwykły pojedynek serwują nam aktorzy z wielką klasą – Jude Law i Colin Firth. A problem nie dotyczy tylko tamtych czasów – "Geniusz" to kolejny przykład kina uniwersalnego, zawsze aktualnego.