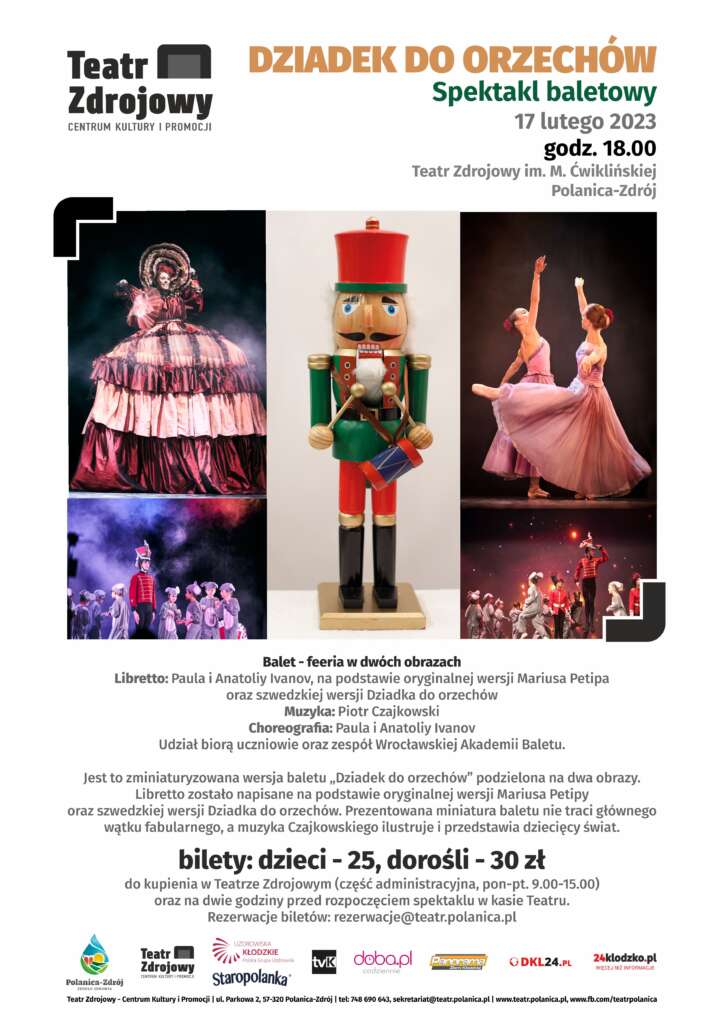 Dziadek do Orzechów
Jest to zminiaturyzowana wersja baletu Dziadek do orzechów podzielona na dwa obrazy. Libretto zostało napisane na podstawie oryginalnej wersji Mariusa Petipy oraz szwedzkiej wersji Dziadka do orzechów. Miniatura baletu nie zatraci głównego wątku fabularnego a muzyka Czajkowskiego będzie ilustrować i przedstawiać dziecięcy świat.
I obraz: Rzecz dzieje się w wieczór Wigilijny, Klara i Fred z niecierpliwością czekają na zaproszonych gości. Przybycie gości rozpoczyna świętowanie, dzieci otrzymują prezenty, podziwiają choinkę. Zabawę przerywa wejście tajemniczego gościa, który jak się później okazuje jest przyjacielem rodziny radcą Drosselmeyerem. Drosselmeyer wręcza Klarze zaczarowanego dziadka do orzechów. Na zakończenie wieczoru goście tańczą taniec zwany "Grossvater", następnie żegnają się i wychodzą wraz ze swymi dziećmi. Dom zapada w sen. Klara z Fredem wymykają się z sypialni by jeszcze raz pobawić się w salonie przy choince, w końcu zasypiają. Nagle ich sen przerywa dziwny szmer. Zaciekawione obserwują czary; ożywionego dziadka do orzechów oraz taniec myszy.
II Obraz: Do salonu wlatują srebrzyste śnieżynki. Klara z Fredem próbują nadążyć za unoszącymi się w powietrzu płatkami śniegu. Śnieżynki wprowadzają dzieci do zaczarowanej krainy słodyczy. Zauroczone dzieci oglądają popisy taneczne symbolizujące różne smakołyki; Czekolada – Taniec hiszpański, Lukrecja – Taniec francuski, Herbata – Taniec chiński oraz Grand ballabile – Walc kwiatów. Czarodziejską uroczystość przerywa Matka Chrzestna dzieci, która napomina Klarę i Freda, że pora już spać. Zaskoczone dzieci wiedzą, że historia nie była tylko wymysłem ich wyobraźni a działa się na prawdę.
[ngg src="galleries" ids="4″ display="basic_imagebrowser"]
Teatr Zdrojowy im. M. Ćwiklińskiej
17 lutego 2023
godz.18.00
bilety: dzieci – 25, dorośli – 30 zł
do kupienia w Teatrze Zdrojowym (część administracyjna, pon-pt. 9.00-15.00)
oraz na dwie godziny przed rozpoczęciem spektaklu w kasie Teatru.
rezerwacje biletów: rezerwacje@teatr.polanica.pl
Balet-feeria w dwóch obrazach
Czas trwania: 1 godzina
Libretto: Paula i Anatoliy Ivanov, na podstawie oryginalnej wersji Mariusa Petipa oraz szwedzkiej wersji Dziadka do orzechów
Muzyka: Piotr Czajkowski
Choreografia: Paula i Anatoliy Ivanov
Światła: Kamil Jach
Obsada: Udział biorą najlepsi uczniowie Wrocławskiej Akademii Baletu
Wrocławska Akademia Baletu – P&A Ivanov – to artystyczna szkoła z przyszłością, która kształci dzieci, młodzież i dorosłych. Powstała z inicjatywy doświadczonych pedagogów tańca Pauli i Anatola Ivanov. Jesteśmy jedną z najlepszych prywatnych szkół baletowych w Polsce. Akademia Baletu ma na swoim koncie takie spektakle baletowe jak: Dziadek do orzechów, Jezioro łabędzie, Duch Róży, Brzydkie Kaczątko czy Piotruś i wilk. Nasi uczniowie występują w Narodowym Forum Muzyki, w Teatrze Lalek, Operze Wrocławskiej, biorą udział w ogólnopolskich oraz międzynarodowych konkursach baletowych zdobywając liczne nagrody. Jako Akademia cyklicznie wystawiamy spektakle oraz wykłady edukacyjne w ramach Międzynarodowego Festiwalu Lądeckiego Lata Baletowego w Lądku-Zdroju.