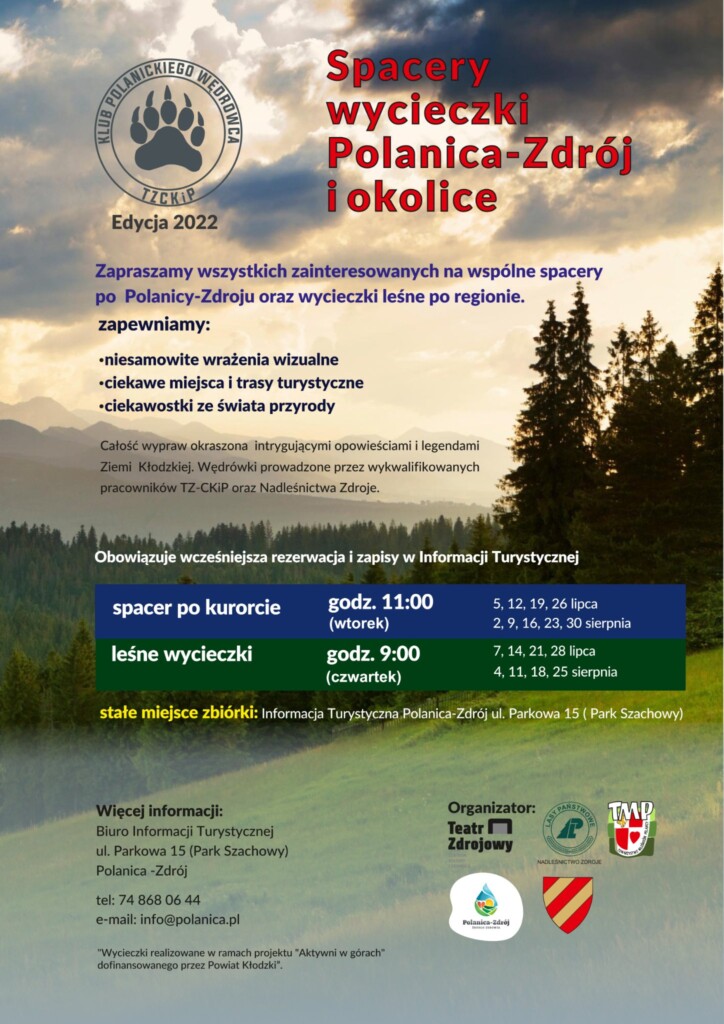 Aktywne wakacje 2022
Wakacje już tuż tuż, a my mamy dla was moc ciekawych propozycji na spędzanie urlopu w naszym uzdrowisku oraz malowniczej górskiej okolicy. A więc:


 w ramach wtorkowych spacerów po naszym kurorcie odwiedzimy jego piękne zakątki, w tym też zabytkowy park zdrojowy poznając jego historię i niezwykłe rośliny. Polanica-Zdrój ma wiele ciekawych opowieści i niejedną z nich poznamy na wtorkowych spacerach z przewodnikiem i regionalistą.


 Nasze czwartkowe spacery po górskiej okolicy będą bardzo aktywne, jak zawsze bogate w leśną edukację prowadzoną pod opieką specjalistów od ochrony przyrody oraz górskiej botaniki. W ich trakcie nie braknie też opowieści i legend, rodem z zmierzchłej przeszłości Ziemi Kłodzkiej, włącznie z odwiedzeniem ruin legendarnego Zamku Homole. 


 Jak wiemy, wakacje to wyjątkowe chwile utrwalone na naszych zdjęciach. Aale jak wykonać to najlepsze wakacyjne foto, które ożywiać będzie nasze wspomnienia i chęć powrotu do miejsc wyjątkowych? Także i tu mamy dla was niecodzienny pomysł. Szczególnie dla tych, którzy cenią sobie sztukę tworzenia zdjęć z klimatem. W czasie spacerów po okolicy, pod okiem znanego artysty fotografika Ziemi Kłodzkiej, poznamy tajniki powstawania magicznych zdjęć przyrodniczych.
Przemierzając legendarne miejsca w Piekielnej Dolinie, pod opieką kwalifikowanych instruktorów i wspinaczy górskich, będziemy mogli posmakować podstaw wspinaczki skałkowej. 

W naszym programie mamy także coś dla miłośników nocnego leśnego życia. Otóż na jednym z czwartkowych, górskich, spacerów odbędziemy warsztaty tematyczne dot. ochrony nietoperzy i ich roli w środowisku i życiu człowieka. 


Jak widzicie naprawdę będzie się działo! Już dziś zapraszamy do udziału w naszym letnim projekcie zarówno mieszkańców jak i turystów goszczących w Polanicy-Zdroju.
Pamiętajcie, że ilość miejsc na daną wycieczkę jest ograniczona, dlatego konieczna jest wcześniejsza rejestracja.
Informacja Turystyczna
ul. Parkowa 15 (Park Szachowy) w godzinach otwarcia biura.
Tel. kontaktowy: +48 748 682 444
e-mail: info@polanica.pl